The latest hair transplant technique makes use of ultrasonic frequencies to bypass problems in extraction for "challenging" patient cases. Dr. Sanusi Umar, the creator of the Dr.UGraft Revolution of advanced hair transplant tools, debuted the world's first ultrasonic hair transplant procedure for afro-textured hair — a hair type commonly considered challenging in FUE surgery. This is due to both the curve of the hair follicle underneath the skin, as well as its strong attachment to the surrounding skin. Watch the video below to see how these issues appear to be minimized.
Watch How Ultrasound Encourages an Effortless Extraction Process
Watch Dr. Umar (aka Dr. U) extract curly African American natural hair follicles from the back of the patient's head with apparent ease.
How the Latest Hair Transplant Technique Came to Be
The ultrasonic hair transplant procedure above is an innovation on a previous breakthrough from Dr. U's Clinic — the manual Dr.UPunch Curl™. With its sharp, curved, two-pronged tip, this punch was designed to overcome issues of coiled follicular growth by following the curve underneath the skin. Additionally, the sharp tip cuts away the stronger skin attachments to the scored follicular unit.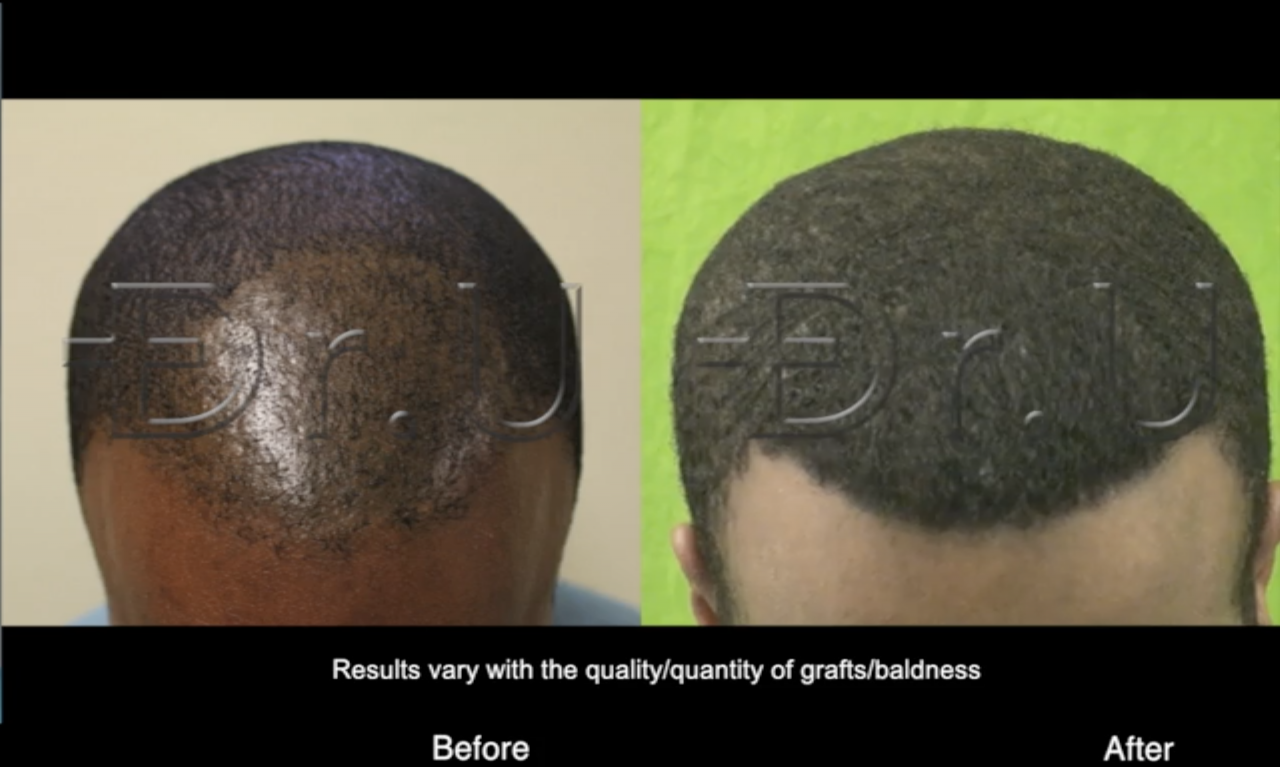 A 2016 study, published in PRS – Global Open compared the use of this tool in 18 patient cases with other graft extraction devices and found the Dr.UPunch Curl™ to be 100% successful where others had failed. However, Dr. U kept the kept the idea of further improvements in mind as he continued to pioneer the use of non-rotary tools in FUE surgery.
Discovering the Potential Use of Ultrasound in FUE 
After years of research and development, the inspiration behind the latest hair transplant technique came from the unlikeliest place — the dentist's office. While Dr. U questioned his dentist's use of an ultrasonic scaler, he realized he could harness ultrasound not dissimilarly for afro-textured hair.
Ultrasonic frequencies, tuned appropriate for a given patient, enable a more effortless extraction process by minimizing the issue of tough skin and strong attachments.
Future of FUE 
Many individuals seeking hair loss help have reservations about shaving their donor area for a procedure — particularly when this area is on the back of the head. The success of adding ultrasound to the manual Dr.UPunch Curl™, however, bodes well for the Dr.UPunch Stealth™, a manual punch designed for unshaven FUE procedures.  The potential combination of ultrasonic frequencies and the non-rotary Dr.UPunch Stealth™ could help make non-shaven FUE a more widely available procedure.
FAQ – Latest Hair Transplant Technique Using Ultrasonic FUE
Who benefits from the use of ultrasound in hair follicle extraction? 
Patients who were previously considered challenging due to their hair or skin types, such as African American patients with curly, afro-textured hair and tougher skin, can benefit from Dr.UGraft ultrasonic hair transplant. Additionally, the possible future application of ultrasound to the manual Dr.UPunch Stealth could stand to benefit patients who cannot shave their head for a hair transplant, due to work or anxiety about their appearance.
Which doctors or clinic offer ultrasonic hair transplant procedures?
Currently, the latest hair transplant technique of Sonic FUE is only available at Dr. U's Hair Clinic in Los Angeles. However, Dr. U is working on making this available to other doctors and clinics as well. In the meantime, the Dr.UGraft™ System, which features the manual Dr.UPunch Curl™, is available to all hair transplant doctors.
Further Reading 
See more patient examples of Dr.UGraft™ Hair Transplant procedures.